Previous match
30. November 16:30h
UEFA Europska konferencijska liga 5. kolo | Astana Arena, Astana, Kazahstan
Astana
Dinamo Zagreb
Next match
04. December 17:00h
SuperSport Hrvatska nogometna liga 17. kolo | Gradski stadion Ivan Kušek Apaš, Koprivnica
Slaven Belupo
Dinamo Zagreb
Season
2023-2024
| # | Club | P | Won | Draw | Lost | GD | Pt |
| --- | --- | --- | --- | --- | --- | --- | --- |
| 1 | Hajduk Split | 16 | 12 | 0 | 4 | 12 | 36 |
| 2 | Rijeka | 15 | 9 | 4 | 2 | 16 | 31 |
| 3 | Dinamo Zagreb | 14 | 8 | 3 | 3 | 14 | 27 |
| 4 | Gorica | 15 | 7 | 5 | 3 | 9 | 26 |
| 5 | Osijek | 16 | 6 | 4 | 6 | 6 | 22 |
| # | Club | P | Won | Draw | Lost | GD | Pt |
| --- | --- | --- | --- | --- | --- | --- | --- |
| 1 | Viktoria Plzen | 5 | 5 | 0 | 0 | 5 | 15 |
| 2 | Dinamo Zagreb | 5 | 2 | 0 | 3 | 2 | 6 |
| 3 | Ballkani | 5 | 1 | 1 | 3 | -1 | 4 |
| 4 | Astana | 5 | 1 | 1 | 3 | -6 | 4 |
Tickets
Match Information
Be our 12th player, come to Maksimir and be a loud support for the Blues on their way to victory
Learn more
04.
December
17:00
Gradski stadion Ivan Kušek Apaš, Koprivnica
Slaven Belupo
VS
Dinamo Zagreb
17. kolo
Buy

ulaznice.hr
Become a member of GNK Dinamo
Join GNK Dinamo and become a part of the blue family, be with Dinamo at all the matches and take advantage of various benefits intended for our members!
Become a Member
Inter-Cities Fairs Cup
(today's UEFA Europa league)
Dinamo

Academy

Dinamo's academy is one of the most successful academies in Europe, top results have been achieved for many years both domestically and on the European level. Many players which were produced by our academy have over time achieved top careers in the strongest leagues in Europe and became standard members of the Croatian national football team

Learn more
The Best Youth Football Academy in Croatia.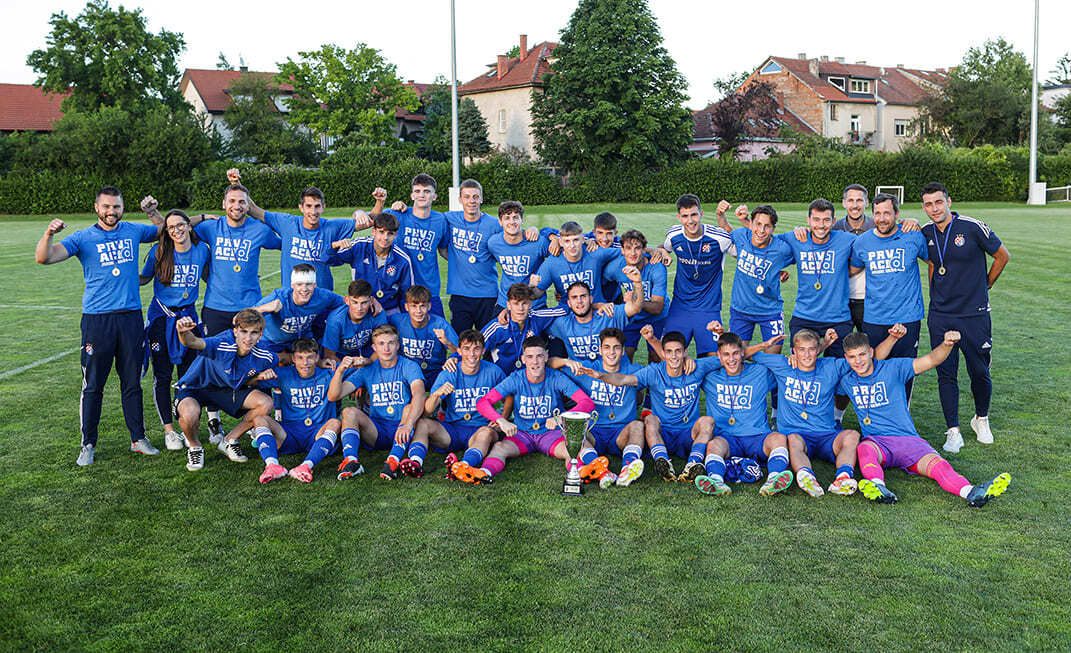 Stay in the loop with
Dinamo+
Dinamo Plus lets you access exclusive video content. Follow top stories from the club, post match statements, the Dinamo podcast, and plenty of other things.
Visit Dinamo+
The GNK DINAMO NEMA PREDAJE Foundation is the official foundation of the Dinamo Zagreb Football Club. The main objectives of the foundation are to promote equality, equal opportunities, and equal rights through football, as well as to provide assistance based on social solidarity.
Visit the Foundation